This will be my last blog for a week or so as I'm camping - back when I have established a link somewhere in France.
2. Robert Frost and Edward Thomas settings - Ryton and around.
Letter from Robert Frost, December 1917.
The Frosts moved from Little Iddens to a cottage near Ryton called The Gallows - it no longer exists. Half of it was thatched, something Elinor Frost had always wanted. Frost's moodiness was intense there, the wind in the elm trees at The Gallows troubled him and they had a difficult decision to make - whether to return to America.
There were quarrels, reflected in the poem 'The Thatch.' Robert said he sometimes felt the trees had more to say than he had. But the decision to go home and the restless mood led to this:
'The Sound of Trees':
I wonder about the trees.
Why do we wish to bear
Forever the noise of these
More than another noise
So close to our dwelling place?
We suffer them by the day
Till we lose all measure of pace,
And fixity in our joys,
And acquire a listening air.
They are that that talks of going
But never gets away;
And that talks no less for knowing,
As it grows wiser and older,
That now it means to stay.
My feet tug at the floor
And my head sways to my shoulder
Sometimes when I watch trees sway,
From the window or the door.
I shall set forth for somewhere,
I shall make the reckless choice
Some day when they are in voice
And tossing so as to scare
The white clouds over them on.
I shall have less to say,
But I shall be gone. RF. (Out of copyright- I
do
like that poem.)
Edward visited in November and it was then, as they walked in Lord Beauchamp's woods, that they were accused by a belligerent gun-wielding gamekeeper of trespassing. Robert reacted angrily while Edward was for backing off and trying to calm the situation; Robert even insisted on challenging the man in his own cottage at which the gamekeeper pointed his gun at Edward. (Ruins of the cottage are still visible at the edge of the wood - again I'm so sad to say I have lost irretrievably the photos I took there as well as the Ledbury ones but you can see a drawing on the map above.)
So much has been made of the incident since, even a claim that this was the over-whelming reason why Edward, having been seen as cowardly by Robert, volunteered and was ultimately killed.
Edward did refer to the matter occasionally but it's my belief that it was a very small element in his volunteering. His real motive was sheer patriotism.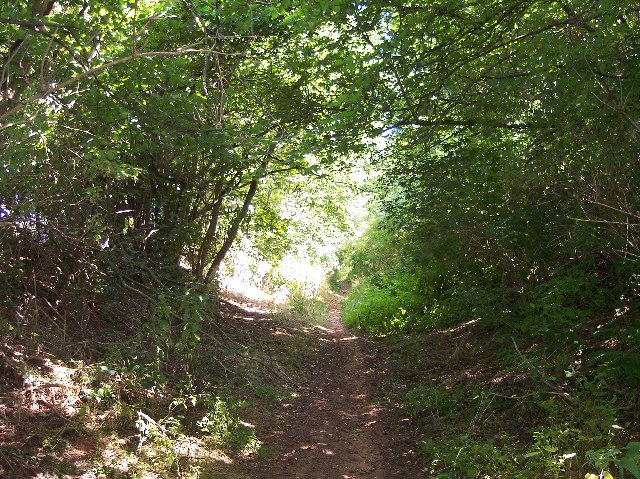 Ryton to Redmarley path
More Dymock
The Beauchamp Arms, Dymock
In the novel, and in real life, Edward and Robert drank local cider here - Robert was not a great drinker, but Edward liked to find an inn and drink ale or cider. It is a fascinating historic pub and that rare thing, community owned. Here in the words of the Friends of the Beauchamp Arms:
The Beauchamp Arms is what you expect of a classic, English, village pub. There is a fireplace in the bar, polished furniture, brasses, and other ornaments: all adding to the homely welcome you will receive. The pub always has a good selection of
real ales and other drinks
.
Pub food
is served in the bar and the restaurant at lunch-time and in the evening.
Dymock is famous for its wild daffodils. There are many walks in the area: one starts from St Mary's church and ends at the Beauchamp Arms (
see here
for directions).
Dymock is well-kown for the
Dymock Poets
(Rupert Brooke, Edward Thomas, Wilfred Gibson, Lascelles Abercrombie, Robert Frost, and John Drinkwater) who lived in Dymock during the First World War.
The Beauchamp Arms is said to date from the late 16th century, and was a stop on the coach road from Ledbury to Newent and Gloucester.
The Beauchamp Arms is owned by the community; it was bought by the Parish Council in 1997. The pub is at the focal point of the village being adjacent to the Parish Hall, St Mary's church, and the village green (Wintours Green). The pub is actively supported by the Friends of the Beauchamp Arms (aka
FoBA
).
I have Robert speculating about the Lord Beaufort of the
Beauchamp Arms,
and the landowning aristocracy and class divisions which displeased him so much. In the event it was the same Lord Beauchamp who got him out of trouble after the gamekeeper episode in Ryton Firs.
William Rothenstein - The artist's farmhouse, Gloucestershire.
On their way home from Dymock an
epiphany, perhaps the real cause of Edward enlisting, took place. Here is an extract:
'The road stretched pale and empty when they did start out for home in the dusk. A low pink-washed farmhouse crouching at the foot of a great elm tree gleamed palely, lamplight yellow in one window. Edward stood looking, then spoke quietly.
'When we were here in June they'd almost finished hay-making, do you remember? The scent of it on the road. The wagon nearly fully laden, standing in the shade of that yew, and the men taking a rest, leaning on their rakes; they and the horses utterly silent and still. It was as if they'd been there since the beginning of time and would be always the same, older than everything, even older than the farmhouse. Utterly timeless. Immortal.'
'You're full of good memories today, Edward.'
' I know I'll never forget this place, this summer. The way the sun has shone on us, on our walks and talks. It's made some ideas clearer to me, and I believe that's true for you too. You have a great gift for talking about poetry as well as for writing it, Robert. That's why I think you should write that book. And as for me, you've given me a sense of something – of possibilities
¾
that I haven't had before. Ambition even.'
'That's what I want to hear. Ambition is good – I have it aplenty myself and it beats me how a man can live without it. Only I tell you again, the place to be ambitious is in America. Progress and adventure, not always looking back. That's why I'm pretty near ready to go home and I'm damned if you're not going to come with me!'
'We'll see. Robert, you know how I waver. I do want to, believe me, but the truth is I have to depend on uncertain things. But look, it's getting late, we'd better hurry on.'
'No hurry, it's great to walk in the dark. All the time there is,' Robert drawled.
This is such a human landscape, Edward thought; every quarter of a mile or so another cottage or farmhouse. And always the high elms and the Lombardy poplars, reaching up into the darkening sky and sheltering each house. They passed a cottage in the dusk, seeing a faint light from the small square window and a thin line of blue smoke against the leaves of its sheltering elms. No-one could see that cottage and not long for his own home, or dream that this cottage was his home, he thought.
The silver sliver of a new moon rose near the horizon.
Suddenly Edward stopped. He thought of France, of the soldiers there. He wondered how many of them would be seeing the same moon – or would they be too blinded to notice it? Blinded by smoke, excitement, pain, or terror? Vividly he pictured them, their eyes briefly glancing at the same moon that he was seeing from a safe and silent lane.
His mind was flooded with a new and overwhelming emotion. He stood still, gazing at the moon, while Robert walked ahead.
Something essential was missing, he realised, in all his love and admiration for English landscapes, these cottages, farms and trees, the country life. It seemed to him that he loved England in a foolish superficial way, only in terms of charm and aesthetics. As though he were just a detached observer. It was as if he hadn't acknowledged it as his country.
To acknowledge it, perhaps – did not that mean he should be willing to die for his country? To do something, at least.
'What's halting you, Ed?' Robert called. Edward didn't hear him.
Would something have to be done, he thought, before he even had the right to look again with appreciation and composure at English landscape? At the elms and poplars around the houses, at the white campion flowers in the verges each side of the lane, the verges known as 'No Man's Garden'.
Edward wrote about this moment in his journal article, This England, the more subjective of three accounts of the mood of people as the war got underway. Perhaps the poem closest to it in mood is this:
The Owl
Downhill I came, hungry, and yet not starved;
Cold, yet had heat within me that was proof
Against the North wind; tired, yet so that rest
Had seemed the sweetest thing under a roof.
Then at the inn I had food, fire, and rest,
Knowing how hungry, cold, and tired was I.
All of the night was quite barred out except
An owl's cry, a most melancholy cry
Shaken out long and clear upon the hill,
No merry note, nor cause of merriment,
But one telling me plain what I escaped
And others could not, that night, as in I went.
And salted was my food, and my repose,
Salted and sobered, too, by the bird's voice
Speaking for all who lay under the stars,
Soldiers and poor, unable to rejoice.