Settings:Arras, Beaurains and Agny, Northern France
These uninspiring pictures show Beaurains as it is today, with the road to Arras, just a few kilometres. I had always wanted to see it as well as Agny where I went some years ago. It is where Thomas was billeted and spent most of his time.
Beaurains
Le Transloy
While driving through northern France we took in Beaurains and also visited a village very near it - Le Transloy, because we have always had in the family a shell-case, engraved with a deer, presumably by a bored or wounded soldier, and the name Le Transloy. It's a German shell. So I photographed the memorial and a near -by cemetery.
Back to 1916-7, in Arras.
Arras town square with a band playing. The ruined houses are as Edward Thomas described them in his war diary, the notebook he kept during the ten weeks he had in France.
The diary was discovered by the late Edward Cawston Thomas among his father, Merfyn's papers and painstakingly transcribed. It was very hard for Edward to transcribe, being written in small handwriting in a pocket-sized notebook, but you can try too, as it can be seen on the First World War digitalised Archive, University of Oxford. Professor George Thomas worked from a magnified version and I read it from his Collected Poems Annex..

The note-book was exhibited at the Imperial War Museum, in 2004 I think, all creased by the shell-blast that killed Edward Thomas.

Here he is on Arras:
'Afternoon to Arras.-Town Hall like Carreg Cennin. Beautiful small white square empty. Top story of high house ruined cloth armchair and a garment across it left as fly shell arrived. ... To Arras and began showing sectors and arcs on 1/10000 maps. ...Place Victor Hugo white houses ans shutters and sharpened fuller and dome in middle. Beautiful.'
Much of Thomas's time was spent with his battalion in the village of
Beaurains,
or what was left of it. It was absolutely devastated by the war. Here is a picture from 1916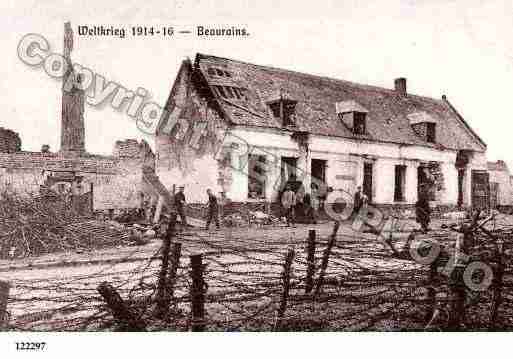 To write the First World War scenes I relied almost entirely on Thomas's War Diary, though the Imperial War Museum artefacts and 'trenches' lent detail and atmosphere. I did not try to convey the broader reality of the War,which has been done so well by so many - I stayed with Thomas's recording of what he saw.
It's impossible not to believe that he would, as he always did, have used his notes for poems to be written:
Enemy plane like pale moth beautiful among shrapnel bursts.
A still starry night with only machine guns and rifles.
Sods on dug-out fledged with fine fronds of yarrow.
Hare, partridges and wild duck in field S.E. of guns.

The shelling must have slaughtered many jackdaws
but has made homes for many more.
Blackbirds sing at battery.
Agny,
in a small cemetery, is where he is buried.
Edward Thomas wrote no poems in France as far as we know. Just three lines which reflect an earlier poem, 'Roads'.
'Where any turn may lead to Heaven
Or any corner may hide Hell
Roads shining like river up hill after rain.'
.................................................................................................................................................................
While away from home I'll do a very informal blog occasionally on our village, Trausse Minervois. See OurhouseinTrausseMinervois.blogspot.com